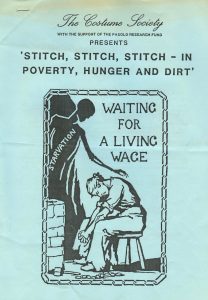 In February, 1986, the Costume Society, in association with the Pasold Research Fund, presented a 'Sweated Trades' seminar, focusing on the harsh realities which produced the handsome clothes of the 19th Century, and the Victorian age in particular.  The presentations considered how seamstresses, employers, and, for that matter, the wearers, were locked together by the rigid bonds of Society.
My mother attended the seminar, and made notes during the lectures, some of which will have informed her own work over the years.  Those notes will be transcribed as a series of entries in this Blog, more or less as they were written thirty years ago.
The Seminar was framed by 'The Song of the Shirt' – a poem by Thomas Hood (1799 – 1845), in which an overworked, underpaid seamstress laments the harshness of her life:
With fingers weary and worn
With eyelids heavy and red,
A woman sat; in unwomanly rags,
Plying her needle and thread.
Stitch – Stitch – Stitch!
In poverty, hunger and dirt,
And still with a voice of dolorous pitch
She sang 'The Song of the Shirt.'
The full text of 'The Song of the Shirt' can be found on the Victorian Web: http://www.victorianweb.org/authors/hood/shirt.html
(See also: http://www.victorianweb.org/index.html for other resources concerning the period.)
The papers presented were:
'A Species of Slavery.'  Dressmaking for High Society in the 19th Century – Presented by Joanna Marschner
'Women who Wove' – Presented by Judy Lown
'Shirtmaking' – Presented by Sarah Levitt
'The Beaders' – Presented by Joan Edwards
'Clothes and Disease. 1830 – 1880' – Presented by Lou Taylor
'Fashion Slaves' – Presented by Christina Walkley
And
'The Sweating System – The Employers point of view.' – Presented by Madeleine Ginsburg
Notes from these presentations will follow, each as a separate post.  Their contents may be of interest to anyone writing, researching, or even role-playing, in 19th Century settings.  Writers of Victorian crime, fictional social history, or fantasy may find ideas for settings, characters, or even plot.  Steampunk aficionados may wish to consider just who made their wonderful outfits, and how much they were paid/rewarded.
These are just notes, and are presented as starting points for personal research, rather than comprehensive facts.  Where relevant, web links will be added to help point interested parties at further avenues of research.
Save
Save
Save
Save
Save
Save
Save
Save
Save
Save